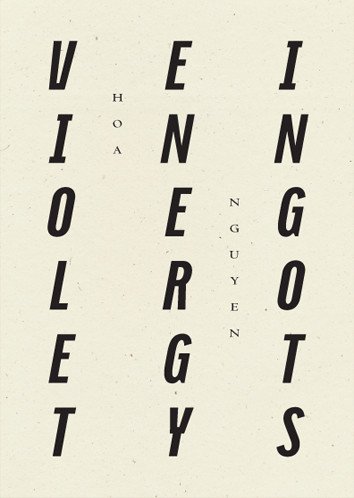 Hoa Nguyen, two-time guest workshop leader at Sister Writes, has made the shortlist for the world's largest poetry prize, the Griffin. She is nominated for her latest collection of poems, Violet Energy Ingots, a book that the judging committee described as "…confident of both its voice and its readers' alertness. It makes its own space. It demands it and holds it."
Hoa used the same language at Sister Writes, urging workshop participants to "take up space, be heard and make things happen."
This is what her poetry does. It seeps into your consciousness demanding attention and time, so that you find yourself reciting and rereading, intrigued by the juxtaposition of words, the fragmented endings of lines, especially the half-words that can't be ignored, the hopscotching and then circling back to the interconnected ideas, the literary and mythical references.
"Don't pull the wild amaranth," she wrote, when she signed my copy of her book at the Brockton Writer's Series. The line, from her poem, "Sunflower Guardians," is an example of the multilayered nature of her poetry. I looked up "amaranth," and went on a journey of discovery.
The word derives from the Greek, "amarantos," meaning unfading. These flowers keep their colour to the end, and for the ancient Greeks they symbolized immortality. Aesop, in a fable, wrote of the roses' beauty as fleeting and the amaranths' beauty as everlasting. And the deep red species of amaranth, commonly called "love-lies-bleeding," is the title of a Wordsworth poem, and a symbol of hopeless love.
One word, one line- infinite possibilities.
Hoa's poetry has been labelled "challenging," but there is pleasure in the process of exploring the layers. So much potential for us as writers, if we allow ourselves to play with language and form.
Another creative tool Hoa uses is a tarot deck. She suggests that the cards that turn up during a reading  invite us to have a conversation with our inner self. This ancient pattern system, a system of receptivity, can be a way into our active imagination. If we are open to the process, the cards can steer us in the right direction.
Like the Tarot cards, Hoa's poetry encourages us to look at things from a different perspective.
In a 2008 Bookslut interview, Hoa spoke of never learning Vietnamese, despite being born in the Mekong Delta. She was raised in the United States from a very young age and her mother spoke little about life in Vietnam.
So what happens to the threads of another life, another world, that are part of our history but of which we have no firsthand knowledge? In a June 21, 2016 interview on Open Book, Hoa says:
     "… I think what operates inside of my poems is that I'm searching for a ghost language. I lost my original language, Vietnamese, a monosyllabic tonal language, due to rupture…I think when I write, the poem attempts to recover or somehow express this ghost language. It is in my body, but I can't speak it."
What is suggested here, I think, is the idea of "trust." As a writer, trusting the voice within and the words that come from that inner place will provide that perspective which is uniquely yours.
"You have to keep showing up," Hoa said at her Sister Writes workshop in May 2016, and that's what she has done. Violet Energy Ingots is Nguyen's fourth full-length collection of new poetry, (she has also published numerous chapbooks, and Red Juice: Poems 1998-2008.) In addition to writing, she teaches poetics at Ryerson University, for the low residency MFA programs at Miami University, Bard College, and privately from her home.
"You don't have to know what you are going to write in order to write," Hoa says.
Just begin.